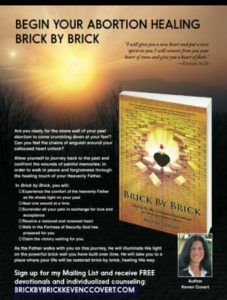 Click Link Below
https://www.westbowpress.com/Bookstore/BookSearchResults.aspx?Search=Keven%20C%20Covert
As we travel through life, we all make decisions that affect our souls. If you have been left broken by a decision to have an abortion, you are far from alone. We have been there as well, and we know that healing and forgiveness are available to everyone through the Lord. Brick by Brick is a women's emotional healing abortion journey book that will help you work through your struggles and find healing.
You Can Understand
Even years after an abortion, you may find yourself struggling with wounds and trauma. Unfortunately, these are wounds that time alone cannot heal. This devotional journal will help you walk through and understand your emotions as you read the stories of others who have also suffered after an abortion. We invite you to reach a better understanding of yourself and Christ's love with us.
You Can Forgive
Often, the person it is most difficult to forgive is yourself. However, God is willing and waiting to give you His forgiveness. If you can't feel His love and forgiveness in your life, walk with us on the path many before you have trod. With this women's healing post-abortion journey book, you can find and traverse the path that will lead you back to God so you can feel His light in your life.
You Can Heal
Once you feel God's forgiveness, you'll be able to leave behind your painful memories, surrender your pain, and heal your open wounds. Those mentioned in Brick by Brick know that healing is possible because they have felt it in their lives, and we know that you can feel the same thanks to His eternal love and kindness.
We provide many healing resources throughout this site to help women just like you find the peace and happiness that you deserve. We know that there is healing ahead for you, and we invite you to email us if you need additional support or have any questions.
Visit WestBow Press to order your copy of Brick by Brick.