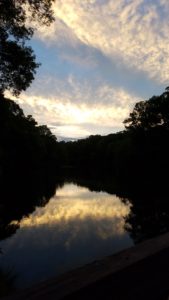 Keven's Story
Where does my story begin?  My story can begin at age nine when I was exposed to pornographic magazines, thus causing my body image to become distorted because my brain did not know how to process such images at such a young age.  My normal and healthy interpretation of what a relationship between two people should be was stolen.  Insecurities arose and the need to fill a void was created, yet I did not understand what it was.  My story can also begin when I went out on a blind date at sixteen, with someone four years older than me, and at seventeen my innocence was taken from me.  I was sexually and emotionally abused for the next eighteen months.  When I heard the longtime line, "If you love me you will" I thought that it also meant he loved me.  My need to have a boyfriend was so great I stayed with him.   After I ended this toxic and damaging relationship, I dated a few guys and had quite a few one night stands.
My story also begins when I moved away to get out of the "small town atmosphere" and finish my last two years of college.  Once I moved out of South Florida, the Bulimia that started in eleventh grade emerged again.  In addition to the binging cycles returned, I started experimenting with drugs and drinking.  I was dating guys for purely physical reasons, with no serious commitment on my part.  I was waiting for someone in the service to come back and we were going pick to up from there.  The crazy thing was, that another side of my personality was also being developed and evident in that I was earning good grades, going to school full time, working two part-time jobs, spending a lot of time at the gym, and being responsible paying my bills.  These good qualities were directly related to the blessing that I lived with my grandparents.  I know living with them kept me out of trouble, even though I found ways to have fun.  My relationship with the Lord was put on hold when I became seventeen; though I still believed and talked to Him.  His hand of protection stayed on me.
My story picks up again eighteen months after I moved to North Florida.  It was time for midterms and cold weather that Tuesday, the 29th day of February in 1984; it was also Sadie Hawkins Day!  While on campus that morning, I met an amazing and incredible guy, whom I had wanted to meet for two months.  I ran into him two days later and through some mutual friends of ours, he got the "go ahead" to ask me out. Long story made short, we were always together, and talked about getting married three months into our relationship.  It was like God had this whole story planned out.
Everything was going according to plan until nine months into our relationship when I discovered I was pregnant.  I had played Russian Roulette for five years, and I thought, "This could not be happening.  I got caught!"  Immediately my wall of denial went up, and I knew what I was going to do.  Sadly, the decision I was getting ready to make had always been in the back of my mind as "my way out" if I became pregnant.  I was very naive and knew nothing about abortion.  I was a senior in high school when a friend of mine told me she had four of them, no big deal right?  The ironic thing is, I had moved in with my boyfriend to see him more.  I found out I was pregnant on a Sunday morning before going to church.  My boyfriend, soon to be fiancé, wanted to keep the baby.  I shook my head no, even after coming home from church.  His sister worked in Child Placement at Catholic Charities and his family would have been supportive in all ways possible.  I was being selfish and thinking about my family's reputation and name, disappointing parents, and shame, getting married in March and graduating in May, and it not a good time.  I went through all the emotions we all go through leading up to "the day", even bargaining with God, hoping it was a bad dream.  On January 19, 1985, Super Bowl weekend, I had an abortion.  My boyfriend drove me.  He took care of me afterward. I had no complications and went on with the wedding plans and graduation.  I could emotionally feel the wall of denial building and tell people I had had a procedure done.  No one asked questions. Kevin and I got married in March seven weeks later, I graduated in May and a new phase of our story began.  Then, on February 14, 2012, the Lord spoke to me to help heal women who have had abortions.  Who, me?  I knew nothing about an abortion, let alone how to help women help who have had them.
Four months later I found myself in a Post-Abortion Healing Bible Study called "Forgiven and Set Free", by Linda Cochrane.  All I kept saying for twelve weeks was, "I want my brick wall to come tumbling down".  I did not even realize until exactly a year later that the Lord would be using those words and the vision He gave me, my first day of group, for the book He would soon begin to write through me.  As the weeks went by, all I wanted was my wall to come down and I remember my passion for helping other women grew as the weeks went by.  How I did not know, but the Lord did.  I began to co-facilitate "Forgiven and Set Free", and then the Lord placed "Surrendering the Secret", by Patricia Layton in my path. Arleen Wong and I started a post-abortion healing study in Ft. Lauderdale in the church I was involved with.  I moved two years later and the post-abortion recovery class is still ongoing, touching women's lives and healing hearts.  I have participated in "Paths to Sexual Healing" by Linda Cochrane, "The Journey", by Millie Lace; "Rachel's Vineyard Retreat", founded by Teresa Burke, and "Go Deeper Still", founded by Karen Ellison.  I am now a part of the prayer team for Deeper Still here in the Atlanta, Georgia area.  I volunteer at the Pregnancy Resource Center of Gwinnett, I facilitate the Brick By Brick healing studies.  The Lord continues to use these studies in various areas of my heart.
In 2013, the Lord called me to write Brick By Brick Healing His Way.  While in my first healing class, I was asked: "If your abortion were a wound what would it look like"?  My wound looked like the front cover of Brick By Brick.  It was a vision the Lord gave me that first night of class.  Little did I know of the journey the Lord would take me on.  The Lord instilled in 2013 the Lord called me to write Brick By Brick Healing His Way.  The Lord has instilled in me a passion for helping women heal from abortions when I had not even gone through healing and the passion grows more each day.  I want to see women be set free from the bondage of lies the enemy has wrapped around their heart.  I want to see them walk in victory.  Brick By Brick Workbook is a 13 week post-abortion healing study, which offers hope to the hurting heart who needs healing from past abortions.
My desire is for each one who has experienced an abortion in their life, man or woman, to have the courage to take off the mask they are wearing, be transparent with others and share their story.  This is how you begin to walk in freedom, by beginning to expose the darkness of the enemy.  Walk this journey with the Lord while He holds your hand each step of the way and He begins to heal your calloused heart, one brick at a time.  The Lord will restore your calloused heart and give you a renewed heart.  Ezekiel 36:26 says He'll remove the heart of stone and give you a heart of flesh.